Edmond Wells, character actor. The natural choice for a top London / European PR company Fleishmann-Hillard to help promote The State of Illinois, as a tourist destination, on the day of release of Steven Spielberg's
new film 'Lincoln' in the UK.
"If you ever need an Abraham Lincoln lookalike, Edmond Wells is fantastic – the real McCoy. The team and I were extremely impressed with his portrayal of the infamous 16th President of the USA. At 6ft 7inches tall, he certainly made heads turn and looked like the genuine article. We were extremely impressed with Ed's professionalism on the job - he kept a constant smile and did not complain once, despite the fact we made him stand outside at freezing temperatures for hours on end. We found Ed through Paul at 21Entertainment who was also a pleasure to work with. To book Ed, visit: www.21entertainment.co.uk.
I heard he also does a mean John Cleese, "Jaws" and Hagrid from Harry Potter!"Julie-Anne Power, Senior Account Executive at: Fleishman-Hillard PR.
Photography Rob Nemetip at: http://www.solentnews.biz
History
The enquiry came through to Edmond, via Paul Douglas from 21 Entertainment as he saw Edmond's potential as a character actor, and a semblance in features and stature, to be more than just an Abraham Lincoln Lookalike. The tricky bit was a suitable outfit that would fit him, plus a quality beard and hat to match and to be prtrayed as a Daniel Day-Lewis lookalike. There were only 4 days to organise it, two of which were over the weekend. Phone calls and emails went out to dozens of theatrical supplies, and theatres, including the National Theatre in London. Fortunately a relatively local company, East Dereham costumes, provided most of the outfit. Michele and Sophie rose to the challenge and worked over the weekend to replace the sleeves from an existing coat and shirt, with longer versions, whilst lengthening the coat. With a great eye to detail, they made the signature tie to suit.
The beard was the most difficult, as a good one is a rare commodity, and one that looks the part is a miracle. Fortunately Edmond stumbled upon Charles Fox on the internet on Sunday afternoon. So a late trip to London from Beccles in Suffolk ensued (Appx. 130 miles) in appalling weather. Fortunately they had one, albeit the wrong colour and shape, but it did have plenty of potential. The lady helped considerably with advice as to how to transform the beard to suit. The purchase was made and with some different mascaras to tone the beard and sideburns, and a heated roller and tongs to form the hair. Edmond trimmed and formed the iconic Abraham Lincoln beard, as portrayed by Daniel Day-Lewis. The Photo session on 12th January 2013 was an amazing experience. Working with a top PR company, and Rob Nemiti, a top London photo journalist. It was a very fast paced, and a precise schedule, but the ends were well worth the means!
LINCOLN MOVIE TO BOOST UK VISITOR NUMBERS TO ILLINOIS
Abe Lincoln, one of America's most famous presidents, pays a visit to London to celebrate his home state of Illinois and invite Brits to walk in his footsteps to sample a slice of history. The Illinois Office of Tourism is predicting a boost in visitor numbers to the US state following the release today of Steven Spielberg's multi-award nominated movie, 'Lincoln'. And to highlight the joys of his home state, Lincoln was in London sampling some British hospitality and chatting with the locals. He posed for pictures on Facebook, visited No.10, rode the Tube and even met a British Bobby.
The UK release of the highly acclaimed movie will see Lincoln's adopted hometown of Springfield become hugely popular with UK visitors. The movie itself is up for a number of awards including 12 Oscars, 10 Baftas and a win already in the bag for leading man Daniel Day-Lewis, for Best Film Actor at the Golden Globes in Hollywood last week - and this spike in historical fame for 'Honest Abe' can only be a good thing for the President's home.
"The 'Lincoln' movie launch is sparking new curiosity in the Land of Lincoln – the place he called home," said Jen Hoelzle, Deputy Director of the Illinois Office of Tourism. "We expect to see a renewed interest from travellers in exploring the State Capital of Springfield and Lincoln sites throughout Illinois.
Lincoln History
No other state in the country is home to as much of Lincoln's spirit and history as Illinois. Abraham Lincoln remains one of America's most beloved presidents, and from Springfield to Alton, New Salem to Chicago, Lincoln's legacy lives in nearly every corner of the state. It's where he was educated and where he became a man.
During his time in Illinois, Lincoln lived in Springfield, Decatur and New Salem. His story is found everywhere from the remarkable Presidential Library and Museum and hallowed halls of the Old State Capitol, to the meticulously reconstructed log cabin and village that defined his humble upbringing.
In Springfield, visitors can trace the footsteps of President Lincoln. They can visit Lincoln's home, the only house he and Mary Todd ever owned, and the Springfield cemetery where Lincoln, his wife Mary Todd Lincoln and three of his sons are buried – the second most visited cemetery in the US.
Learn about Lincoln - Daniel Day-Lewis style
There is a host of emotional and educational exhibits at the Abraham Lincoln Presidential Library and Museum - the most-visited presidential museum in the US. James Cornelius, curator of the museum's Lincoln Collection, spent a half-day with Daniel Day-Lewis in Springfield as they discussed various details of Lincoln's dress, mannerisms and style of speech. He also spent time reading old letters Lincoln had written.
Visitors can also explore his early years practicing law at the Lincoln-Herndon Law Office and Old State Capitol, to see where Lincoln first made his mark in the Illinois State Legislature. Day-Lewis also spent time at the Old State Capitol and Lincoln-Herndon Law Offices during a discreet one-day trip to Springfield in November 2010.
The New Salem Historic Site, just north of Springfield, is where visitors can travel back to the 1830s when Lincoln lived as a young adult while forging his political career. South of Springfield is Alton, which boasts the Lincoln & Civil War Legacy Trail at 10 different sites - including the place where Lincoln and Stephen Douglas clashed in one of their famous debates.
For more information, visit the Abraham Lincoln Presidential experience at DiscoverIllinois.org.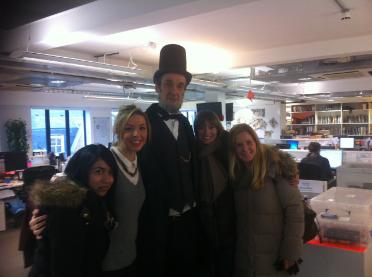 Chinese Proverb:
"Whether the cat is black or white, it doesn't matter, it's so long as it can catch the mice."
With special thanks to to the "cool cats" above, who made the project a total success."